Barometric pressure reading in weather instruments on iPhone is incorrect by 3 decimal places.
Data reading at 7:19:50 5400msecs shows meteorological composite barometric pressure reading is1.0203. Transducer measurement is 102030.
Weather instrument displays pressure reading as 1.0. Correct display is 1020.3
Displayed reading is correct with CE on windows.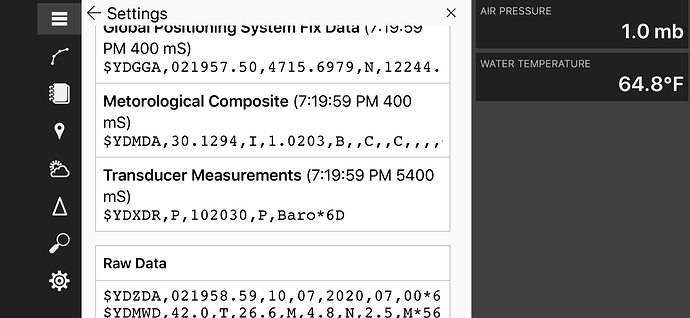 Displayed reading of barometric pressure reading disappears after 2 seconds. Instrument displays dashes until barometric pressure device sends another reading.
This particular barometric pressure device sends a reading on the NEMA network approximately every 20 seconds.
Data seen at 7:20:02 400msec shows that the meteorological composite barometric pressure reading is blank, The transducer reading of 102030 persists.
This problem is also seen with CE on windows platform.
FWIW, the barometric pressure display persists as expected when it is viewed on MFD screens from another manufacturer.